The Most Powerful Health & Beauty PBN On The Market!
Crush Any Health & Beauty Term With Ease
Let's get straight to the point...
Original T-Ranks is a premium non-niche specific PBN rental service that has delivered 1000+ rank increases in the last 4 years.
This time around we decided to go niche specific and bring you the most powerful Health & Beauty PBN ever!
All websites in the network are health & beauty related. They either belonged to a local practice, they were blog or other health & beauty website.
Which means relevance of not only content but also incoming links. Further boosting the authority and power.
Also, only auction domains with maximum of one drop are on this network.
Anything Health & Beauty related is welcome!
Whether it is affiliate website or local business website, anything Health & Beauty related will benefit. Anything not Health & Beauty won't be accepted naturally.
Muscle Building /Fitness, Yoga, Cosmetics, Local Practices like dentists or plastic surgeons, Weight Loss, etc.
If you are unsure if we are a good match feel free to contact us before ordering.
Power

High metrics:
Domain Authority 25+
Domain Rank 40+

Laser Targetted

Content on the PBN is laser targeted towards Health & Beauty. Further more, all domains were health & beauty related which means they also have related backlinks.

Age

PBN is built on high quality, aged, auction domains, however, that's not all. We let the websites age even more since we acquired them, feeding them with content, social signals and traffic for 6+ months before opening them to the public.

Homepage Links

What you're getting are so called sticky posts. Which means as long as you are subscribed your links stay on the homepage (page with the most power).

Low OBL

This is a very low Out-Bound Link count network, maximizing the amount of juice you will get. Max OBL is 9-15.

HQ Content

Content surrounding your link will be very high quality. Manually written and always 100% original.
Majestic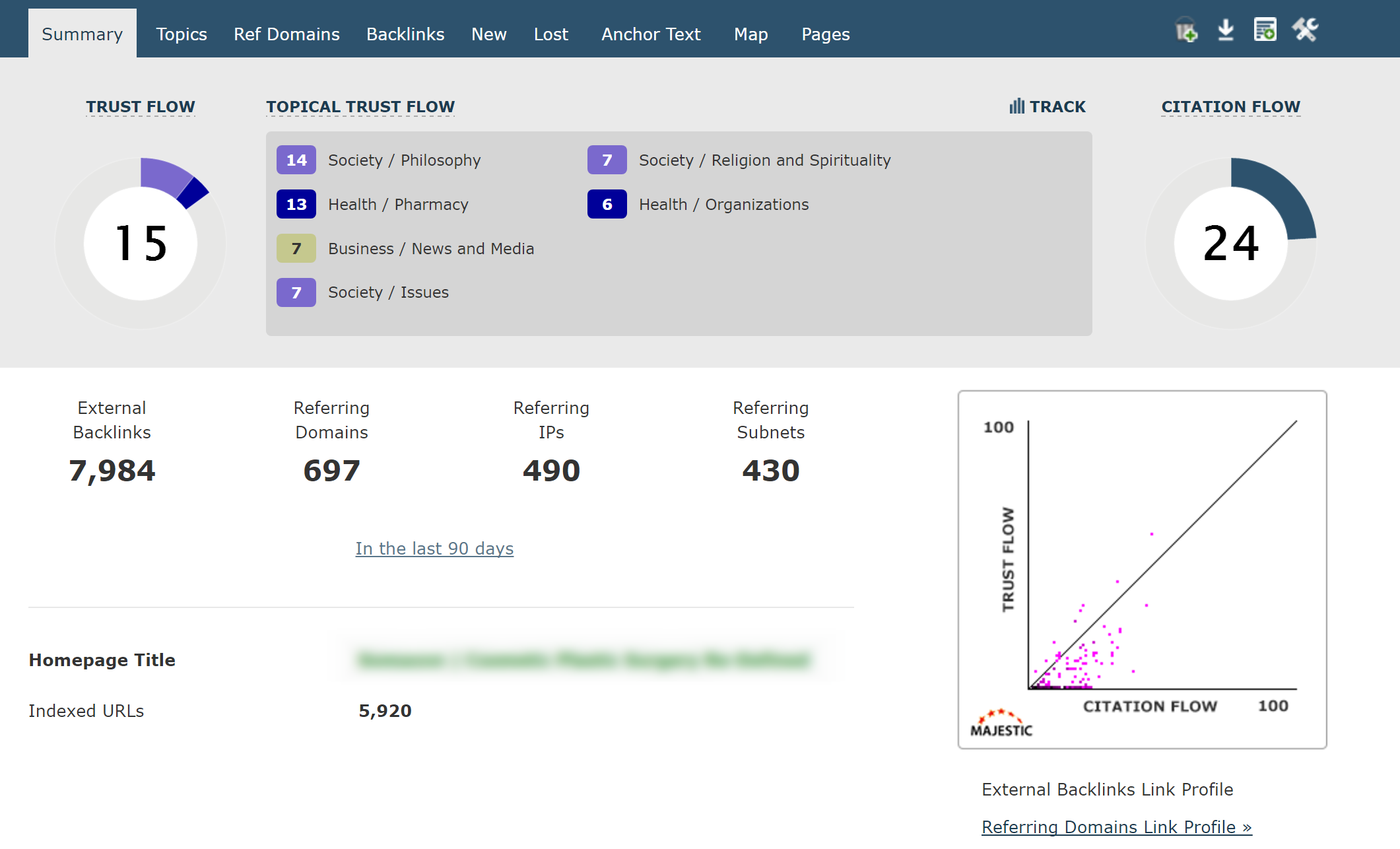 Moz
Ahrefs

Very recent result of one of our clients.
N/A to #4 in less than a month
It is very hard to find reliable provider of PBN links these days. People spend very little time setting up their sites and managing them. Or their network lacks any power so getting links from it is useless anyway. T-Ranks is exact opposite of this.

Patrick Babakhanian Owner, SERPchampion
I outsource all of my link-building to T-Ranks. Since I'm not an SEO professional and I have a busy schedule I was forced to find someone I can trust and who gives results. And I did.

Samrath Gupta CEO, AdFox
All I can say is T-Ranks guys do outstanding work. I have picked up a couple of links and I just love the results I'm getting.

Armando Orta
T-Ranks is possibly the best PBN rental service I have ever used. Ranking increases also come faster from this network than others I have tried.

Jesse van Dijk Owner, The PBN Curse
I have been using T-Ranks for several years and have gotten the best services for the pricing. They also answer all of my questions and give me advice on how to handle stuff. I would recommend them to anyone that does SEO an is looking for great rankings!

Adam Gerstin
Awesome service! Got the links up in record time! Will be back for more.

Thales Prado
Service delivered as promised, impressed by the way this PBN has been set up.

Footprints have been hidden very very well and metrics were prettty good. The sites look fantastic, very impressed overall.

I have verified the domains are auction domains, I see no record of them dropping in historical who is research.

TAT was also very quick.

I Know SEO

BHW Moderator
I am software developer and I don't have time for fancy SEO stuff like building a PBN and what not. But I still want that beautiful search traffic of course (lol). Because of this I outsource all of my link building. After 3 years I have tried many many of the service providers. When it comes to PBN links I always go back to T-Ranks and Diggity Links.

Phill Kopp
Choose The Plan That Best Suits You
Generally higher plan for more competitive keyword.