The Most Powerful Surgery PBN On The Market!
Your Surgeon Clients Will LOVE You!
Let's get straight to the point...
Original T-Ranks is a premium non-niche specific PBN rental service that has delivered 1000+ rank increases in the last 4 years.
This time around we decided to go very niche specific and bring you the most powerful Surgery related PBN ever!
All websites in the network are health related. They either belonged to a surgery practice directly or were health related and re-themed for surgery.
If re-theming took place, we regularly published HQ content for at least 6 months so search engines can clearly recognize the authority.
Only auction domains with maximum one drop are on this network.
Anything surgery related is welcome!
Whether it is general surgical procedure or cosmetic/plastic one, you are welcome to use our network. What is not allowed of course is anything that is not surgery related.
If you are unsure if we are a good match feel free to contact us before ordering.
Power

High metrics:
Domain Authority 25+ Trust Flow 15+
Domain Rank 40+ Referring Domains 100+

Laser Targetted

Content on the PBN is laser targeted towards Surgery. Further more, all domains were previously either surgery or health related which means they also have related backlinks.

Age

PBN is built on high quality, aged, auction domains, however, that's not all. We let the websites age even more since we acquired them, feeding them with content, social signals and traffic for 6+ months.

Homepage Power

What you're getting are sticky posts. As long and you are subscribed your links stay on the homepage (page with the most power).

Low OBL

This is a very low Out-Bound Link count network, maximizing the amount of juice you will get. Max OBL is 9-11.

HQ Content

Content surrounding your link will be very high quality. Manually written and always 100% original.
Sample Website In The Network
Majestic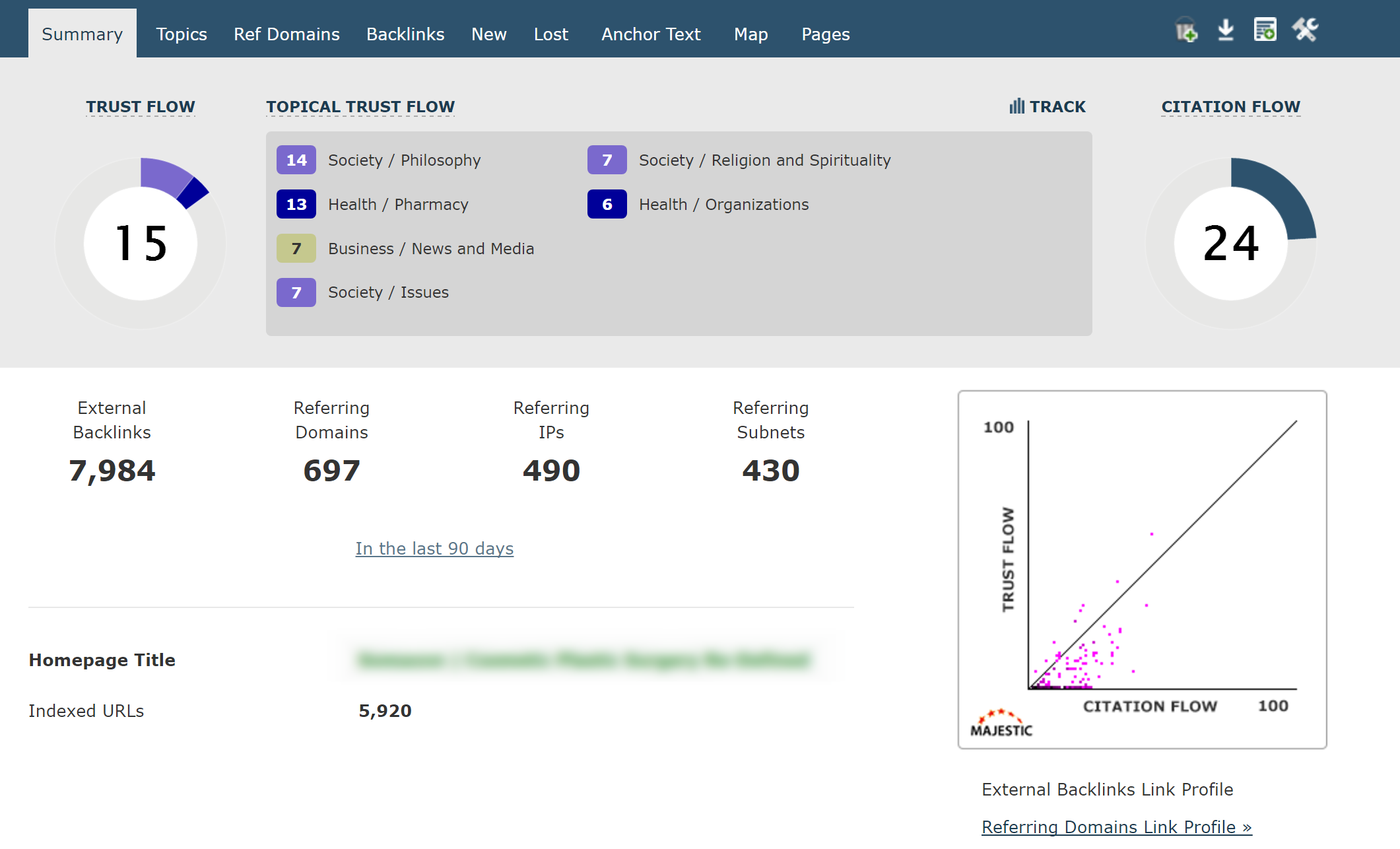 Moz
Ahrefs

Very recent result of one of our clients.
N/A to #4 in less than a month
Choose The Plan That Best Suits You
Generally higher plan for more competitive keyword.