Thank you for submitting details.
We will inform you about progress of your package by email.
Give your website even greater rank boost!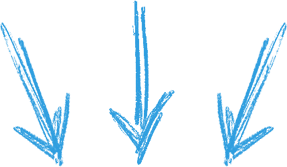 Guest Post links
from Powerful,
High Traffic websites
Manually outreached guest post backlinks from websites with traffic, age, trust and power.
Get backlink from a website like this:
Guest post backlinks or so called manual outreach links are simply put backlinks coming from content published on websites in your niche.
They are very powerful because they are inserted into well aged, respected websites with vast organic traffic and strong backlinks profiles.
Guest posts are one of the most reliable types you can get.

Safety
Even though you are paying for guest posts, in the eyes of search engines they are indistinguishable from real editorial backlinks.
Why?
Because they are placed by the website owners themselves or a guest author. The link is the same as if they simply chose to link to your money site naturally.


Power
They are very powerful because they come from well aged, respected websites that usually have large number of backlinks pointing to them.
These websites are also well established in search engines themselves and often organically rank for a thousands of keywords.
Trust
Guest post backlink is a very special type of link because it comes from well established websites.
These websites are very well known to search engines and they re-crawl them regularly.
Many times the guest post itself will start to rank, bringing in direct traffic and increasing power your website gets from it.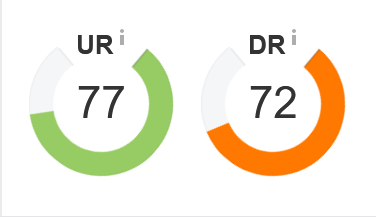 Traffic
Lack of organic traffic is one thing that is the biggest giveaway for anything fake, for example a Private Blog Network.
Organic traffic is the #1 element we look at when picking a potential outreach target.
Traffic is a proof that search engines already trust the website because they are already ranking it in top positions for multiple keywords.
And you can get a backlink from such website now.
Expansion
Guest posts are very easy to scale as a backlink type.
We run multiple in-house tests and naturally rank websites with guest posts as a sole source of backlinks.
You can of course use other link types but this just shows how easily scalable, accessible and safe guest posts are.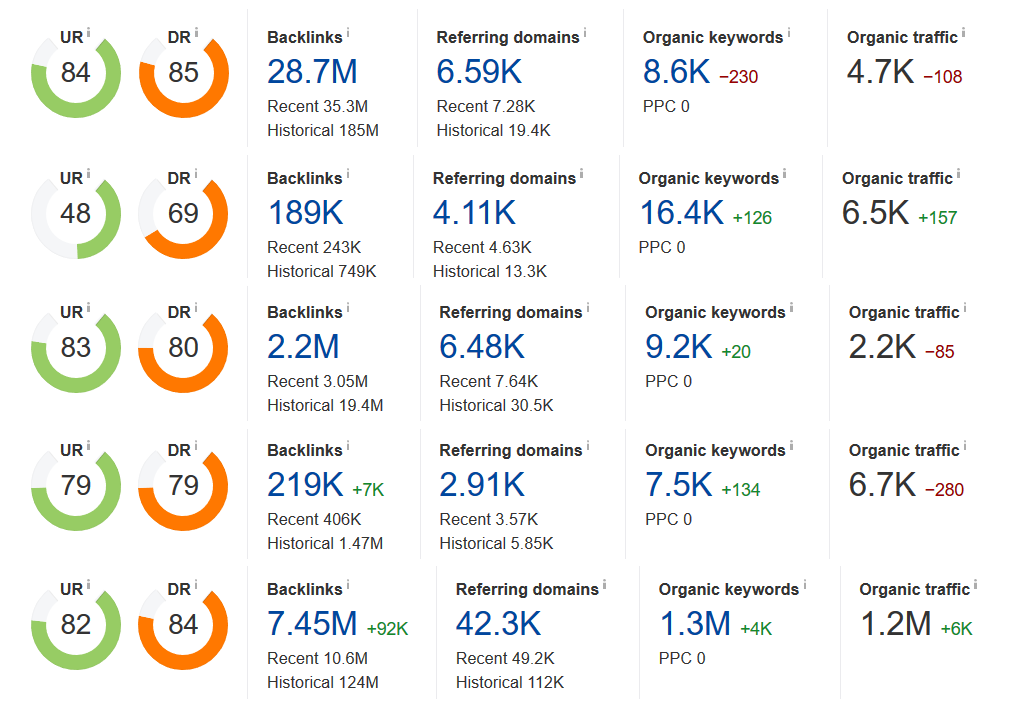 1

Order

To start, simply pick the number of guest posts you would like to purchase.

2

Submit details.

After you place your order, we'll ask you submit anchor text and target URL for each guest post link.

3

Wait for report

After you submit your details, all that's left is to wait for an email from us with your backlinks.
What Results Can You Expect?

Increased Rankings Even With Small Numbers
Guest post links can be used to raise authority and trust of the website and increase rankings in search engines results.
They do not carry as much power as other link types (for example PBN links), but they work great for easy or even medium keywords.
However, in sufficient quantities they can push even the hardest of keywords.
Keyword on the left is example of medium competition and 15 T-POST links.
Increased Metrics
Do you want to impress your clients with higher popular metrics like Ahrefs DR or Moz DA?
If so, guest posts are the way to go.
Overtime they can significantly increase popular metrics like DR or DA because these links come from websites that already have high metrics themselves.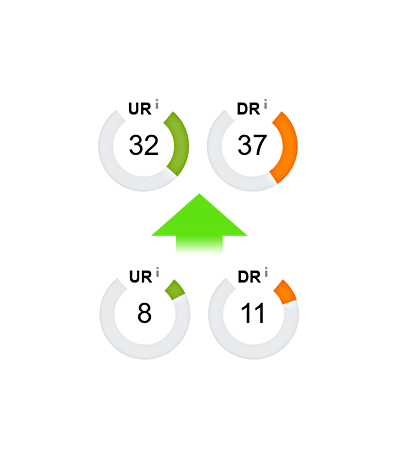 Stable Long-term Rankings
Guest posts are very easy to scale as a link type.
They are very safe and can be used almost without limit.
In higher numbers they can push even the hardest of keywords.
Example on the left is a very high competition keyword in finance niche and 400 T-POST links over 3 years.
(Disclosure: other SEO work is always done on the websites as well but T-POSTs made large portion of the link profile)
Choose the number of guest posts that best fit your needs.
(higher competition = more needed)
Same domain = all target pages must on the same domain (ex: t-ranks.com/page1, t-ranks.com/page2 etc).
Only English = only English language targets and anchor text are accepted.
FORBIDDEN! = adult, drugs (cannabis,mushrooms etc.), steroids, hate, racism, movie & music streaming, replicas, weapons, warez, hacks & cheats.
Q.

#1 - What is the TAT (turn around time)?

A.TAT is 60 days.

We have to manually reach out to webmasters in your niche and negotiate link placement. This takes time.

We of course try to do it as soon as possible always.

Q.

#2 - Is there a gurantee?

A.Yes.

If we fail to deliver the order, you will be granted a full refund.

Q.

#3 - What is the refund policy?

A.These links are permanent but things can happen that makes them go down. For example website being sown for a long time because of hosting issue.

If this happens within 6 months after delivery, we will either:
– find a suitable replacement
– provide refund for the link(s)

Q.

#4 - What details do you need from me?

A.Anchor text and target page URL for each link you ordered.

Q.

#5 - Do you want content from me?

A.No, we have our own team of writers.

Q.

#6 - Do you guarantee rank increase?

A.No. T-RANKS is not a ranking service, merely a provider of backlinks.

Q.

#7 - How fast are the results?

A.Results vary a lot. From few weeks to months. Keyword competition and state of your page/website pay crucial role.

Q.

#8 - Do you provide link reports?

A.Yes, we will deliver you full list of guest posts with your links.

Q.

#9 - Is this one-time payment?

A.Yes, this service is one-time payment.

Q.

#10 - Can I change/update existing anchor text or taget page?

A.No. Once link is published it stays that way.

Make sure the details you submit are exactly as you want them.

Q.

#11 - Do you accept non-English websites?

A.No. Only English targets are accepted.

Q.

#12 - What niches are prohibited?

A.– adult
– drugs (cannabis,mushrooms etc.)
– steroids
– movie & music streaming
– hate
– racism
– replicas
– weapons
– warez
– hacks & cheats

Q.

#13 - Is content relevant?

A.Yes, the content around your link will be relevant to your website's topic.

Q.

#14 - How many websites can I target?

A.You can target one website.

Any number of pages on that website.

Let's say you order 5 links. You can put all five to a single page, 2 link to one page and 3 links to another or every single link to a different page. Up to you.

Q.

#15 - Can I target multiple websites?

A.No.

One website per order.

Q.

#16 - How many target URLs and anchor texts can I use?

A.One anchor text and target page URL per link.

And as many as you ordered.

Q.

#17 - What kind of websites is this service for?

A.Guest posts for for any kind of website.

Q.

#18 - How many links should I buy?

A.That heavily depends on your keyword competition. Generally speaking, for harder keywords, choose bigger package.

If you are not sure, contact us and let us know about your specific case.

Q.

#19 - What anchor texts should I use?

A.That is very individual and changes with each keyword. Generally speaking, T-POST is designed for keyword rich anchor texts to increase rankings.

Anchor text choice assistance is part of the service.

If you want assistance, contact us after placing an order.

Q.

#20 - Can I rank with T-POST alone?

A.Yes, it is possible to rank with T-POSTs alone.

However, for the sake of safety, diversity and long-term rankings ,we suggest to to use various link types in your SEO strategy.

Q.

#21 - Is There A Drip Feed Option?

A.No. But they are drip fed naturally as we outreach for them and website owners publish them.