Initiating a domain name auction can be a wise way to get back some of the bucks you've spent from a web page you no longer need or want. Nonetheless, this process will be complex if you are unfamiliar with the business of flipping websites.
Luckily, right now, many online marketplaces can help you get the best price for your website!
In this guide, let's have a complete walkthrough about what auction domains are, examples of domain name marketplaces, and why it is the best place to sell your site.
Introducing Auction Domains
If you have come to a point where you no longer need your website or lack time to keep it going, selling it would be your best option. By this, you can take back some of the money you have spent on it. In some instances, you may even make a profit from it.
Any domain name can be valuable, depending on the keywords it uses, which Top-Level Domain (TLD) it includes, and more other factors. You can also get additional bucks if you are selling your website and its content in one go.
Changing your brand can also lead you to sell your domain name, whether or not you are keeping your online property. As soon as you realized the first web address you chose doesn't match your online biz, it's best to register into a new one immediately and transfer your content over to it.
Then, you can proceed by selling your first domain to recoup some of your investment made. Auctioning it away can be very beneficial as the pricing structure is flexible due to this type of sale.
When you auction domains, customers may feel motivated to take bids on domains with lower prices. Still, as time goes by, you will get a chance of selling it more than you might make by just listing a certain amount in traditional selling.
Top 6 Domain Name Marketplaces
To help you decide which domain name marketplace you will list your website for sale; here's the top 6 to choose from: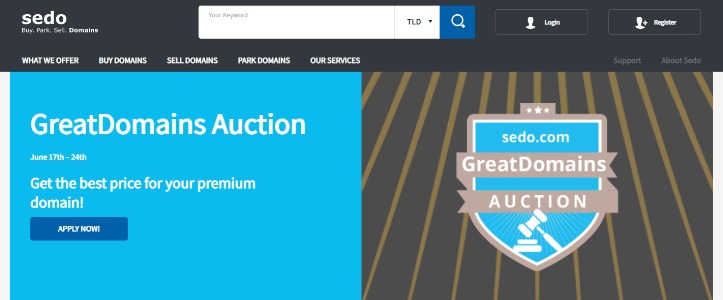 Sedo is one of the huge domain marketplaces online. It allows web owners to list their domains, as well as the premium ones, for sale. Even if some of the domain names found have been previously used, most of them remained untouched.
One of the perks of using Sedo is that you can freely perform domain name research, and it can suggest ideas based on the set of keywords you are looking for to target.
To narrow it down, you can also filter your domain search on whether you are looking for a premium domain or both a website or a domain name.
It offers four different kinds of domain listings:
– Buy Now
– Negotiable
– Marketplace Auctions
– Expiring Domain Auctions
Right after conducting your domain search, you can proceed and compare offers, together with the statistics and the sellers' information. If you have decided which domain name to purchase, Sedo's team will take care of the rest of the process.
Moreover, Sedo offers broker services so that a professional will negotiate for you for a premium domain. Choosing this service will make your domain registration transfer free of charge.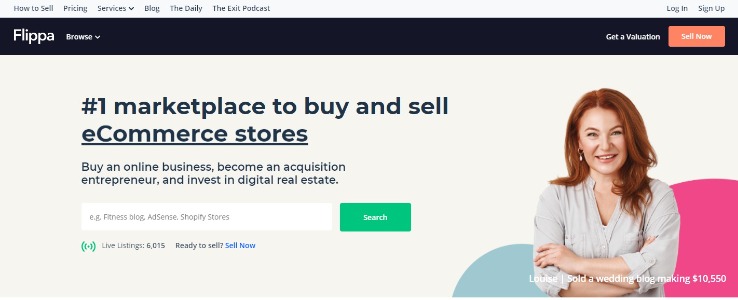 Flippa is another well-known domain name marketplace that allows people to buy and sell domains. Moreover, it also allows users to buy and sell an online property, such as websites, applications, and content.
Usually, the premium domain names listed on Flippa are either sold through direct sales or via auction domains.
This auction-based structure enables you to check domain names you are fascinated with and follow auctions so that you will keep well-informed of the bidding.
You can then start placing bids on a premium domain name in an auction. As soon as your offer is accepted, you can complete the acquisition by following Flippa's payment guidelines. 
You can filter your premium domain search based on several factors, such as:
– Price
– Age
– Top-Level Domain (TLD)
Since Flippa is used other than buying and selling domain names, the user interface is not as simple and straightforward as others mentioned on this list. But it offers broker services, the same as Sedo, to help reduce the negotiation and acquisition process.

Namecheap is another reputable and popular domain registrar that offers affordable pricing and reliable support.
This domain name marketplace is organized and intuitive, making navigation, searching, and acquisition of domains a breeze.
To search and avail of a premium domain name listed on Namecheap, you can find it in their domain name search tool. It labels the premium domain names with purple premium tags.
One of the perks of acquiring a premium domain name through Namecheap is that, unlike other domain registrars mentioned on this list, it is guaranteed that with Namecheap, you won't have to deal with any upsells.
Plus, it also has a domain management panel that is user-friendly.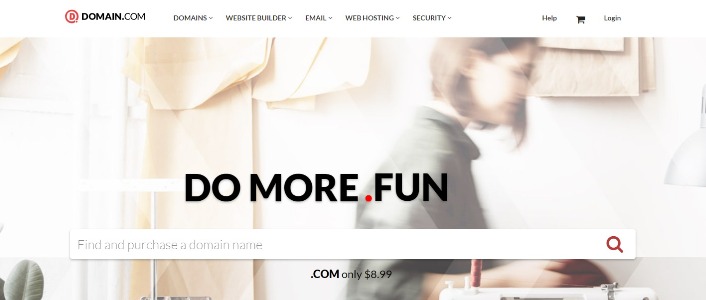 Domain.com is one of the most recognized domain registrars online. It highlights an easy-to-use domain search tool that makes it simple to find available domain names for sale quickly.
Here, you will find inexpensive rates for TLDs together with discounted domains. Searching for premium domains here will be smooth. In the domains dropdown button section, you will find an option connected with premium domains.
After you find a premium domain that you want to buy, Domain.com will give you the TLD of your choice and along with the pricing options.
If you are on a budget, it will give you recommendations for other related domain names.
Another perk of Domain.com is that it has an easy domain management feature to direct your domain on your hosting service. Plus, it also provides how-to guides on website building to help you start the best way.

GoDaddy may be the largest domain name registrar at the moment. It handles millions of domain names for a vast number of users around the globe. 
Like other domain name registrars, it offers domain broker services, domain name generators, and domain research tools. Plus, it also has premium auction domains where you can purchase or make your domain for sale.
However, being a big business, it offers multiple other services and tons of upsells, which can be understandably overwhelming for first-timers.

NamePros, while not to the same extent as popular as other domain name registrars and marketplaces mentioned in this guide, is a decent place to find premium domain names available for sale. Nonetheless, this is not your typical registrar service.
Instead, NamePros is a forum where customers within the internet community are centered on purchasing and selling domain names and discussing and exchanging news and pieces of information.
It also offers dedicated options for purchasing and selling domain names, appraisals, requests, and many more.
For instance, it is the best go-to site if you are interested in looking for premium domain names for sale for the purpose of investing or simply if you are gathering ideas for your own domain name.
NamePros also has a marketplace where you can find domain names listed in auction domains. The domain buying process will depend on which kind of listing you are looking for, such as:
– Buy Now
– Auction
– Bargains
– Make An Offer
You can also choose to filter domains to purchase per categories just as:
– Data
– Numeric
– Brandable
NamePros, while it stores a lot of reliable information, is a bit messy and not almost as advanced and user-friendly as other domain registrars mentioned in this guide. But if you have a particular domain in mind, this site is definitely worth checking out.
Conclusion
Obtaining a domain name is understandably tricky. At one point, you will feel that all solid domain names are already taken and unavailable.
Still, if you are ready to invest in purchasing a shorter, easy to remember, and unique domain name, then domain name marketplaces mentioned in this guide can be a good resource.
Any premium domain name can definitely make a noticeable difference in your business's branding and online marketing strategy.
There are many places to go in finding legit domain registrars that also offer auction domains where you can place your old site for sale.
Have any domain names you no longer need and want to sell?
Auctioning them off to one of these domain name marketplaces might be your best option!
Some people also decide to register their domain names for sale at a fixed rate rather than putting them to auctions.
Now that you have made some bucks from selling domains you no longer want, it's time to buy another one for your next project.
If you are having a problem choosing a domain name, please check out the video below for definitive tips in choosing a perfect domain name.
Once you decided on your domain name, you can proceed with building your other online properties.
I hope this guide helps narrow down your research and the best domain name, premium or not, that is available for registration.